Letchworth Arts and Crafts Show | Emerging Artist Program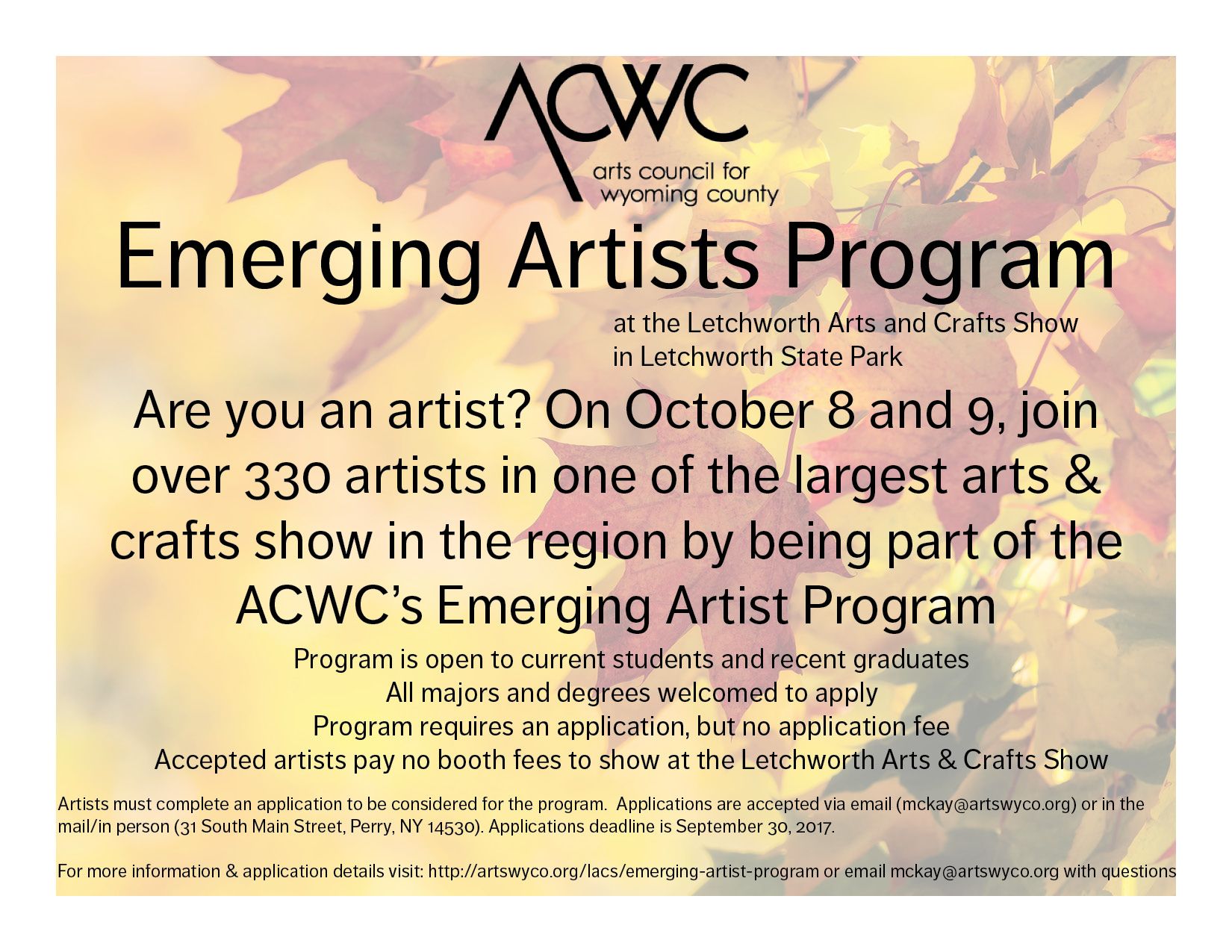 The Arts Council for Wyoming County (ACWC) welcomes the next generation of professional artists to join 300+ vendors at this year's show through the new Emerging Artist Program.
Acceptance in the Emerging Artist program includes display and selling space in an indoor venue (Highbanks Recreation Area's North Shelter) at the show on October 7 & 8 at no fee. Accepted artists are responsible for staffing and selling their works during this day. Emerging Artists will be accepted after an application process. For more information on the application, please contact the Emerging Arts Coordinator, Pilar McKay at mckay@artswyco.org to schedule a meeting to talk about the program.
"The Emerging Artist program is a great way for current students and recent graduates – of any age, from any major – to be involved in the Letchworth Arts & Crafts Show. We are hoping these artists will learn while at the festival and continue to be part of the festival as their creative career grows," said Pilar McKay, ACWC's Associate Director of Marketing and Development, "we want new artists to think of the ACWC as a mentor as they develop their careers."
Applications are due by midnight on September 30, 2017. Applications will be accepted on rolling basis. 
Application Information:
Artists will be approved after a completed application is submitted. Applications are accepted via email (mckay@artswyco.org) or in the mail/in person (31 South Main Street, Perry, NY 14530). All Applications must be submitted by September 30, 2017.  
Artists will be responsible for staffing and selling their works during this day. They should anticipate being on-site at the show on that Sunday and Monday including tear down of all art by Monday, October 9 at 5:30 p.m.
Criteria for application include:  
Either currently attend college/university or recently graduated from college (within the last two years)

All levels of college/university students welcomed: from associates to bachelors to MFA students
All majors welcomed: applicant does not have to be studying in a visual studies/art program to submit an arts & crafts application

Produced a body of work in the last two - three years
A brief personal statement about applying to Letchworth Arts & Crafts Show (500 word maximum)
An artist statement (500 word maximum)
A resume (one page maximum)
Minimum of 3 and up to 5 digital images of work created in the last three years (images can include multiple pieces of art, but please be mindful that the jury must be able to see detail in the work).
1 image of artist creating their art
Present a Sales Tax Certificate of Authority - (for more information on this - consult this website: https://www.tax.ny.gov/e-services/elcoa/default.htm) 
Optional: Attendance to one of two virtual orientations (conference calls) to the festival or confirmation with the Emerging Artist coordinator (to go over show criteria, best practices, and answer any questions)
Applicant must submit application materials by email on or before September 30. Incomplete applications will not be reviewed.
NO APPLICATION FEE
Any questions: email the Emerging Artists Coordinator, Pilar McKay, at mckay@artswyco.org. Please include the question and phone number in your request for information.