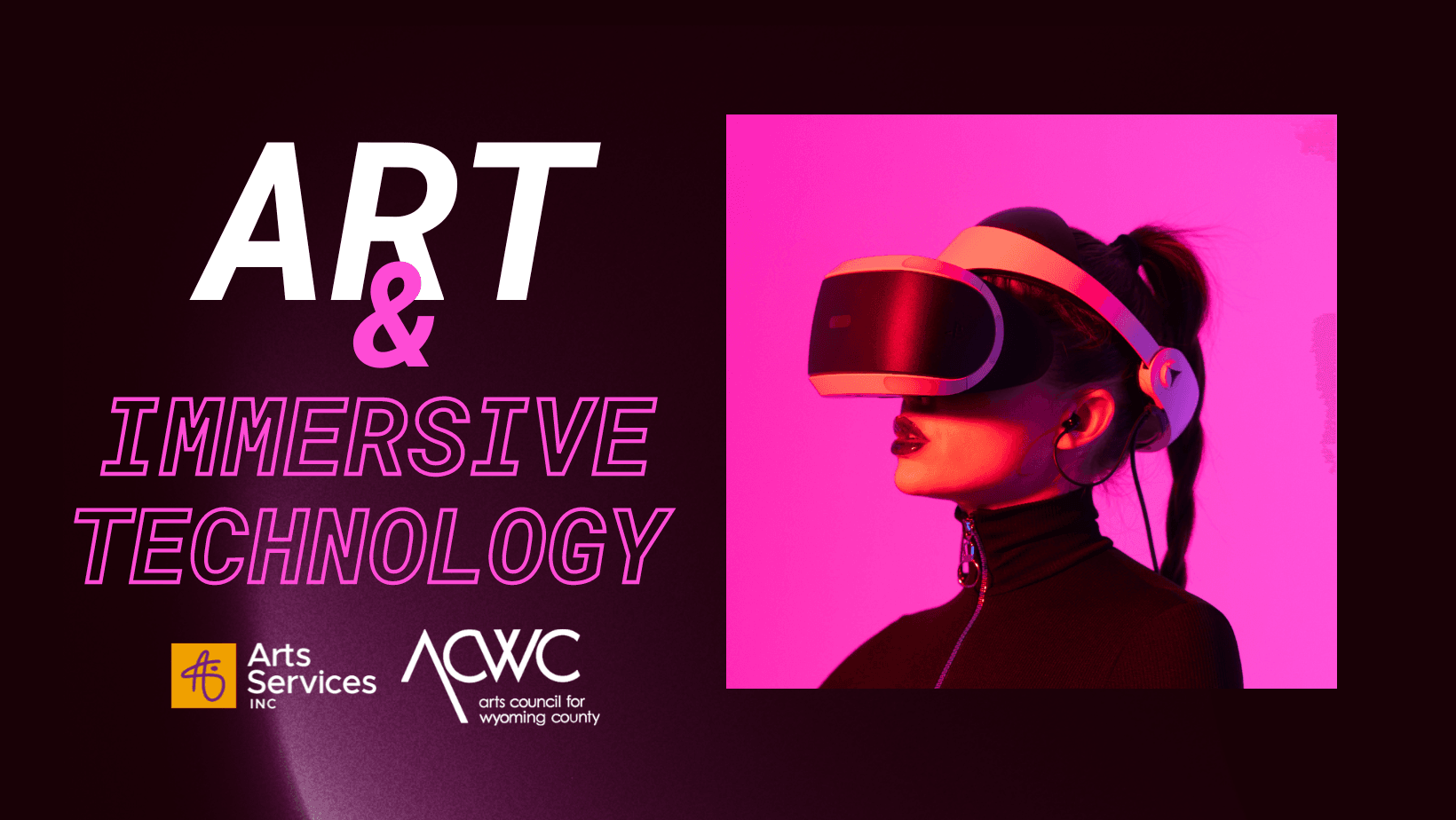 ACWC has been awarded an Immersive Technology grant to celebrate the art forms of virtual and augmented reality in our region and to educate artists and community members alike about this growing field.
ACWC will be hosting educational events to provide artists and art educators who have some experience with or interest in immersive technology with workshops to enhance and expand their knowledge base. We will partner with creative consultants Eric Southern and Shasti O'Leary Soudant to lead in-person, hands-on workshops. These will include utilization of virtual reality equipment and software to create 3-D drawings and sculptures that can be viewed through augmented reality platforms. Software to be reviewed and used will include Adobe Aero and Shapr 3D Pro. These events are in partnership with ASI, Inc. of Buffalo. The workshops will be held:
Saturday, August 27, 2022
Arts Council for Wyoming County
31 South Main Street, Perry, NY 14530
10:00 am to 1:00 pm
Saturday, September 10, 2022
Tri-County Arts Council
110 W State St, Olean, NY 14760
10:00 am to 1:00 pm
Saturday, September 17, 2022
David A. Howe Library
155 N Main St, Wellsville, NY 14895
10:00 am to 1:00 pm
Saturday, September 24, 2022
Frank E. Merriweather Library Branch
1324 Jefferson Ave, Buffalo 14208
10:00 am to 1:00 pm
Saturday, October 1, 2022
Kenan Center
433 Locust St, Lockport 14094
10:00 am to 1:00 pm
Saturday, October 8, 2022
Cassadaga Branch Library
18 Maple Ave, Cassadaga 14718
10:00 am to 1:00 pm
You can register for any of these workshops at: https://form.jotform.com/asiwnyoffice/art--immersive-technology-workshops. Class limit is 15.
The third and final tier will include a series of in-depth hands-on training sessions at two of the media arts resources in our region: Alfred University's Institute for Electronic Arts in Alfred, NY and Squeaky Wheel in Buffalo, NY. This opportunity will be for a limited number of participants who are looking for a more advanced training in this technology. These artists and art educators will be invited to participate in day-long sessions at each site. These intensives will be led by creative consultants and will include a tour of the facilities, a presentation on emerging techniques, and hands-on experience in virtual reality as used in the creation of digital art, film and installations. Be watching our website and social media for dates and locations for these events!
To further ensure that this opportunity is available to all that are interested, we will be offering these workshops free of charge. In addition, we will provide the option of ASL interpretation for any session and large print materials can also be provided as needed.
Be watching our social media and website for more information on this project, or reach out to Linda Franke at 585-237-3517 ext 102 or email franke@artswyco.org.
This project is made possible with funds from the NYSCA in Partnership with Wave Farm: Immersive Art & Technology Initiative, with the support of the Office of the Governor and the New York State Legislature.