Small World: Jamaican Artist Raymond Jackson Exhibit & African Masks and Sculpture at the Arts Council for Wyoming County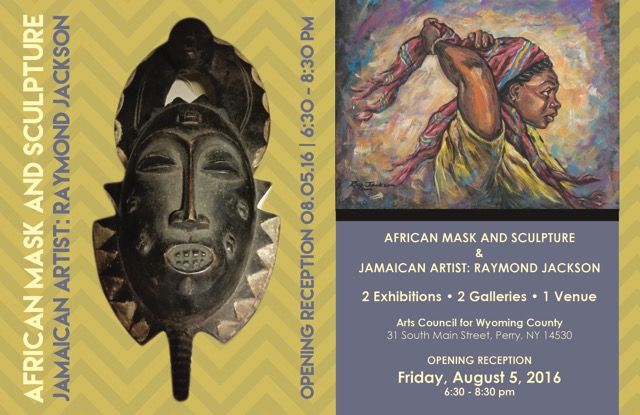 Raymond Jackson (Main Gallery)
Author Ernest Hemingway said, "It is good to have an end to journey toward; but it is the journey that matters, in the end." Artist Raymond Jackson said, "It is the love of this land that drives me, and being an artist is a lifelong profession. You don't retire, but you journey on." The ACWC invites you to come and experience this artist's journey with the opening of his exhibition, Jamaican Treasures, in the Main Gallery on August 5. Ray Jackson is regarded as one of Jamaica's most distinguished and sought-after portrait pastel artists. His signature technique of using hands instead of aintbrushes creates vibrant, vivid portraits and landscapes that document the Jamaican landscape and its people. Ray has traveled across the island for over 30 years observing people, photographing places and then, as he likes to say, "recording them." 
Come celebrate another of our 2016 Small World themed events at the opening reception of this exhibition on Friday, August 5 at 6:30 pm to experience Jamaican food, music, and island art. Yeah Man!
Call 585-237-3517 for more information.
African Mask and Sculpture: On Loan from Houghton College (Members' Gallery) 
On view at the Arts Council for Wyoming County is an authentic African Mask and Sculpture Exhibition in our upstairs Members' Gallery. A small selection of Houghton College's permanent collection will be on loan to the ACWC during the months of August and September. Special thanks to Gary Baxter, ceramics professor at Houghton College, for helping to make this loan possible.
This is what he had to say regarding the collection: "Ten years ago, Charles Hudgins lent Houghton 60 pieces from his collection of African art. Last year he agreed to lend us 60 different pieces for another exhibit. Shortly after that, Charles was diagnosed with terminal lung cancer and given 3 months. He wasn't sad, though. He was 82 years old and told me he was at peace with God. And then he said, 'Except one thing: MY AFRICAN ART COLLECTION!' He told me that when the idea came to him to leave his entire collection of 1000 pieces to Houghton College, he felt like someone had lifted a huge burden off his shoulders. He said he was ready to die, and he did, this past June. THANK YOU CHARLES."
The Arts Council thanks Kathleen Woolsey for her archival work with this collection, and her role in making this exhibition possible. Thanks also to Houghton College for their incredible generosity in entrusting this invaluable collection to the ACWC.