Douglas and Ryan McDanel Art Crawl & Memorial Scholarship Fundraiser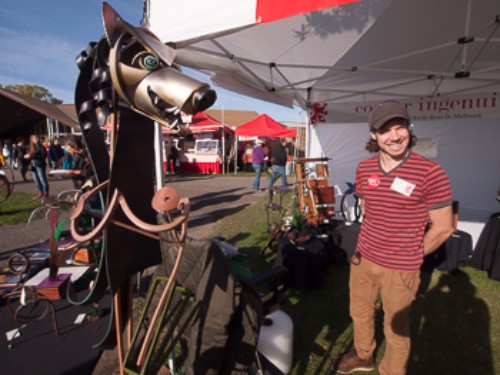 The public is invited to join us in celebrating the lives and work of two past prominent ACWC member artists and to establish a scholarship in their memory. Doug and Ryan McDanel's art work will be on display in the ACWC's Members' Gallery in Perry as well as in private homes in Wyoming County.
The Sculpture Crawl will kick off at 10 am on September 15, at the ACWC's Members' Gallery with an exhibition of Ryan's Mallory flowers. A short ceremony and unveiling of the memorial fund drive thermometer will take place at that time. Individuals will be invited to make donations to the memorial fund before they exit the gallery to continue the Sculpture Crawl. The ACWC will provide a map to help individuals navigate their way to other sites where the sculpture and two dimensional art pieces are on display. Some of the pieces will be for sale and a portion of the proceeds will go towards the McDanel Art Scholarship.
The goal of this fundraising event is to add additional capital to a small seed fund that was donated in both artists' honor. The funds will be used to establish a scholarship that will have a life of five to ten years. This annual scholarship will be awarded to one high school student who creates three dimensional work worthy of the scholarship. The award will be determined by how well the student's work and interview reflect Doug's and Ryan's art process or philosophy.
During Ryan's last exhibition at the ACWC's gallery, he said:
"I work with steel and am alive during the entire creative development of a piece, but it has become my passion to pursue that moment of euphoria, where art and molten steel freeze a form and I am so far out of my own head that I can objectively say, 'I wasn't thinking.' I very rarely take the objects that I make seriously, but I do take my art making very seriously."
We hope you will join us at the ACWC Gallery on this very special day to celebrate these two artists' lives and work, and support our efforts to honor their memory with your generosity.
---
McDanel Art Memorial Scholarship
We are grateful for contributions to the McDanel Art Memorial Scholarship fund. You can contribute below or write a check to the Arts Council for Wyoming County (memo: McDanel Art Memorial Scholarship) and mail to 31 South Main Street, Perry, New York, 14530.