It's A Wonderful! Festival Launches in Perry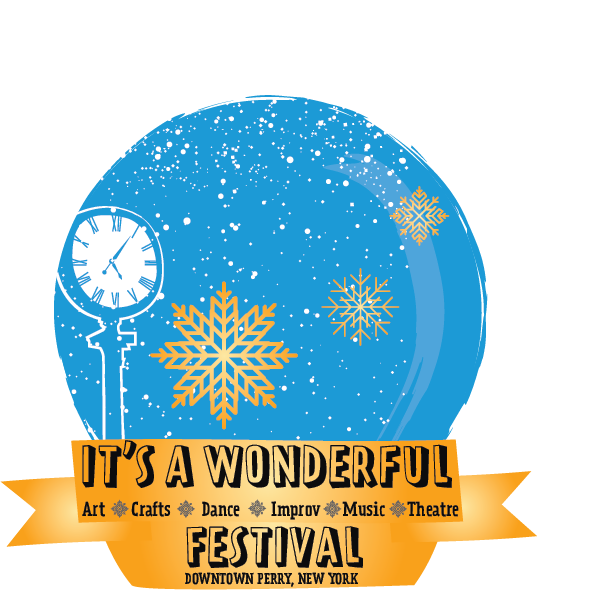 It's A Wonderful Festival
During the month of December, Downtown Perry will be full of the arts - from visual arts to dance to improv to music to theatre. Several arts organizations are part of the "It's a Wonderful! Festival" in its second year this year.
The schedule of events is extensive - so mark your calendars early so that you can make it to many of these exciting events! Individual organizations are in charge of selling their tickets - ticketed events are denoted with *tickets required.
New events are being added all the time - so come back throughout the month of November to learn about classes with Burley Berries and Blooms, more performing arts, and music at the brewery.
Participating organizations & events:
Arts Council for Wyoming County
Shake on the Lake/New York State Puppet Festival at Theatre@37
Genesee Dance Theatre
Silver Lake Brewing Project
Burley Berries and Blooms
East Hill Creamery
Last Night Perry
Updated Schedule
Ticket links are included in the event listing. Please contact the organization directly for tickets and event reservations. 
November 30: Christmas at the Creamery at East Hill Creamery - Wreathmaking, Charcuterie, & Fondue: Tickets $50 (6:30 p.m.)
December 1: Arts Council for Wyoming County's Artisan Fair featuring local handmade artisans: No Ticket! (Noon to 8 p.m.)
December 2: Silver Lake Brewing Project's Sip & Paint Ornaments: Tickets $23 (1 p.m.) Ages 21+
December 7: *Opening Night* Shake on the Lake's A Christmas Carol featuring Wyoming County Community Action Carolers at Theatre@37 : Tickets $20 or $90/groups of 5 (7 p.m.)
December 8 & 9: Shake on the Lake's A Christmas Carol featuring the Wyoming County Community Action Carolers at Theatre@37: Tickets $20 or $90/groups of 5 (2 p.m. OR 7 p.m.)
December 8: Silver Lake Brewing Project presents Grammy Award winning musician Mike Brown: Tickets $5 at the door (7 p.m.) Ages 21+
December 14: *Premiere* Genesee Dance Theatre presents Reimagined Nutcracker before Shake on the Lake's A Christmas Carol at Theatre@37: Tickets $20 or $90/groups of 5 (ticket includes both performances) (7 p.m.)
December 15 & 16: Shake on the Lake presents A Christmas Carol and Genesee Dance Theatre presents Reimagined Nutcracker at Theatre@37: Tickets $20 or $90/groups of 5 (ticket includes both performances) (2 p.m. OR 7 p.m.)
December 16: Burley Berries & Blooms hosts Holiday Monogram Wreath Workshop at Silver Lake Brewing Project: Tickets $40 (3 p.m.)
December 23: Silver Lake Brewing Project's Brewmas Holiday Party includes Food & Fun: No Ticket! (Noon to 10 p.m.) Ages 21+
December 28: Silver Lake Brewing Project presents Ben Haravitch: No Cover (7 p.m.) Ages 21+
December 31: Last Night Perry!! Perry Central Schools: Tickets $10/person $25/groups of 5 (5 p.m. to midnight)
Event Locations
East Hill Creamery, 346 South Main Street, Perry, NY
 Arts Council for Wyoming County, 31 South Main Street, Perry, NY
Theatre@37, 37 South Main Street, Perry, NY
Silver Lake Brewing Project, 14 Borden Avenue, Perry, NY
Perry Central Schools, 33 Watkins Ave, Perry, NY