In Conversation: Talking with Sandy Pirdy, Wyoming County Entrepreneur and Women's Business Summit Keynote Speaker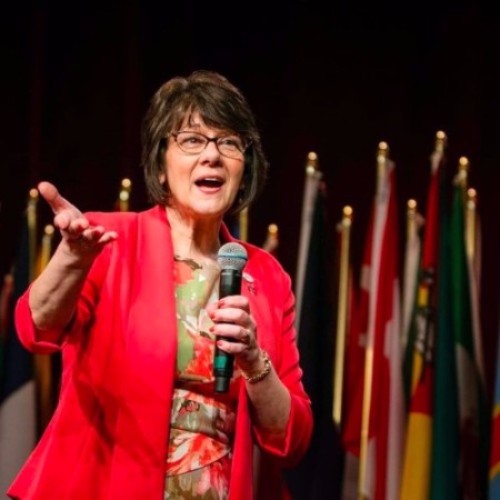 Sandy Pirdy has been the owner of Creekside Fabrics Quilts & Yarn, located in Arcade, NY for over 12 years.  She is a lifelong learner who desires to share and encourage others in personal and professional growth, recently completed the John Maxwell Leadership Certification program. She is passionate about arts and culture, economic empowerment, education, health, and wellness.
Sandy is currently a member of the Wyoming County Industrial Development Agency Board of Directors. Her experience as a community leader and organizer, public speaker, teacher, trainer, life coach, team builder, manager, strategic planner, a specialist in customer service, sales and marketing, brought a message of hope in her keynote speech on "planning for the unplanned" in the midst of the unexpected and adversity. 
On September 29, 2016, Sandy Pirdy was the keynote speaker at the Wyoming County Women's Business Summit sponsored by the Arts Council for Wyoming County and the Wyoming County Chamber of Commerce. 
We spoke with Sandy about her reflections on starting a business and what it is like to be an entrepreneur. 
For young women starting in business, how did you start as an entrepreneur?

I worked in the corporate world for 25 years prior to opening Creekside. I knew I was destined for my own business when I wanted to re-invent each business I worked with. So when my daughter entered college, I knew it was my time for me to do my own.

Was opening your own business always your part of your career plan? How did you prepare?

In the beginning, no. Then as I grew through my experiences, the tug of owning a business was always there. I prepared by looking at what my passion was - Sewing & Quilting. I did my demographic study, visited with quilting groups, took my husband on a road trip to see other shops away from WNY sales region, sought out trade information, professional financial advice, chamber of commerce and IDA help. Put together a plan, purchased a building, renovated, purchased goods to sell and opened my front door in 2004.

What would you say are the biggest challenges of being a business owner? 

The biggest challenge is staying up with technology, knowing it (Facebook, Websites, online sales), using it (staying current), protecting my customers (fraud by a third party troublemakers).

Next big challenge is knowing the behind the scenes of owning a business. Correct insurance needs and coverage's, payroll and contractual employee hiring, and staying focused in the day to day operation needs of the business.

What would you say are the biggest opportunities of being a business owner? 

There are many, thank goodness or the challenges would be to great!  The opportunity to be the navigator of the ship... taking ideas, passions, networking ability, resourcing, and education into the market place, while doing something I enjoy. Developing staff to their strengths, making an impact in my community, creating a good shopping experience for our customers, providing a tax base for Village, County and NY, creating employment opportunities, and to offer Creekside later on to a new Ship Captain that will take her beyond measure.