Plan ahead with future ACWC events at upcoming events. 
In Conversation: Talking with Steve Martin, Certified SCORE Mentor & Volunteer, about Small Business Skills for Artists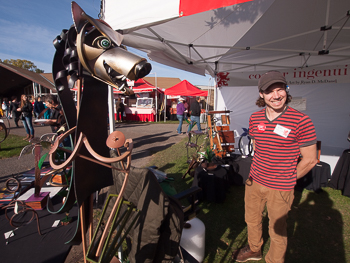 Local Artist Ryan McDanel at Letchworth Arts and Crafts Show (2015)
On October 20, US Small Business Administration Buffalo District Office, The Arts Council For Wyoming County, Wyoming County Chamber of Commerce, and the Wyoming County Industrial Development Agency are sponsoring an all day "Small Business Workshop" hosted by the Buffalo Niagara SCORE Chapter. SCORE is a non-profit organization that coordinates business experts with start-ups and new entrepreneurs. Steve Martin, a Certified SCORE Mentor & Volunteer, spent some time talking with us about artists and business skills:
For artists starting their first business, what would you say is the most critical "first step" for them?

An important first step is to realize that unless and until art is sold and a profit is made the endeavor is a hobby. There are many legal and practical elements involved in starting and running a business and these may not in the artists tool kit yet. Get the education and counsel that will help you get off on the right foot. Prepare a business plan in enough detail to reduce the risk that you will end up as a starving artist.

Free access to business mentors and very low cost business education are but two of the wonderful resources from SCORE.
    
You work with entrepreneurs in all fields, what do you think makes the arts different as an industry? What do you think makes it similar to other fields? 

There are several elements that are common to essentially all businesses. Nothing happens until you sell something so marketing and sales are part of that bridge from art on the wall to cash in the till. Customers tend to buy from people and companies that they know, like and trust. This means that those entrepreneurs who can help their prospects to understand and relate to them have a significant advantage. Art is somewhat different in that the beauty does lie in the eye of the beholder. This means that it can be very challenging for artists to find their niche markets but once they do success is possible.
    
What suggestions do you have for artists in terms of managing their time between spending time creatively and for their business?

Business requires organization, conformance to rules, attention to detail and the dedication to work on the business.  Set your commercial goals as well as your artistic goals and embrace the fact that you have to do the work of the business. This acceptance may help you to make the tough choice to work on the business when you have to. Run your business as efficiently as possible so you can dedicate a balance of time and energy with your family and your art.

Use you life, art and business goals to help guide your decisions. Reassess and readjust when you find your life out of balance.

Artists may be tempted to "do it all" for their business, but what do you consider key ways that artists can use business tools or advisors to help them grow their business? 

You do not have to do it all but it all must be done. Until you make enough money to hire others to do tasks like marketing, bookkeeping, shipping and even cleaning the studio those tasks fall on your shoulders. Don't make them any more complicated than needed. 
You do not have to be an expert in everything but you need to know enough to make good decisions. I recommend that you have a team of advisors for your business including an attorney, an accountant, a banker, mentors in the arts field and a SCORE mentor. Use their counsel to help you to decide what you must do and what is optional.
Use freelancers and experts to help you develop your brand, set up your website, start your bookkeeping and other business tasks. Online accounting systems, for example, can make your financial management effective and efficient for you. The internet also opens up channels of distribution that greatly simplify retail business. Talk to your mentors before spending real money because they probably know of better options or can at least confirm that your investment is a good one.