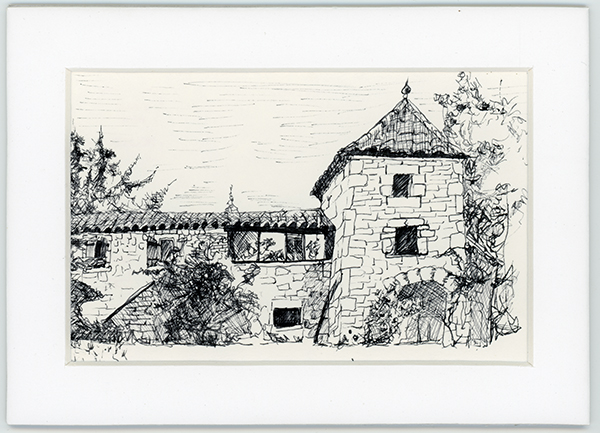 Main Gallery: TRAVELERS
What do a health care professional, retired USPS Postmaster, retired co-owner of an interior design & decorating business, and a student studying Digital Arts have in common? They each recently traveled and documented their experiences in ink, oil paint, and watercolor. This multi-generational group of female artists will share their landscape representations from places such as France, Peru, Italy, Belgium, and San Juan in the exhibit Travelers. The work of local artists Julie Bayliss, Esther Frank-Doyle, Linda Purdy, and Sandra Tyler will be displayed in the ACWC's Main Gallery. 
The opening reception is October 28, 2016 at 6:30 p.m. at the Arts Council for Wyoming County (31 North Main Street, Perry, NY 14530)
---
Summer Exhibits in ACWC Satellite Galleries

WCCH REHAB CENTER (Warsaw) 
Rachel Richter

EAGLE FREE LIBRARY (Bliss)
Judy Bufano

STEVENS MEMORIAL LIBRARY (Attica) 
Ted Wetherbee

ZECHES FURNITURE (Warsaw)
Canyon Camera Club

LETCHWORTH CABLE ACCESS (Perry)
Mary Beth Kushner, C. Shanahan & Gary Baxter 

WARSAW PUBLIC LIBRARY (Warsaw)
Cheryl Leonard Van Denburg & Phil Hewitt
WYOMING COUNTY OFFICE FOR THE AGING (Warsaw)
Phil Hewitt

WYOMING COUNTY YMCA (Warsaw) 
Rich Gouinlock
HOLE IN THE WALL (Perry)
Sandra Tyler
FIVE STAR BANK (Warsaw)
Promotion of the current exhibit in the ACWC Main Gallery
BANK OF CASTILE (Warsaw)
Ted Wetherbee
One Lake Street 2nd Floor
JQ

Please note: schedule is subject to change.