Small World: Jamaican Artist Raymond Jackson Exhibit & African Masks and Sculpture at the Arts Council for Wyoming County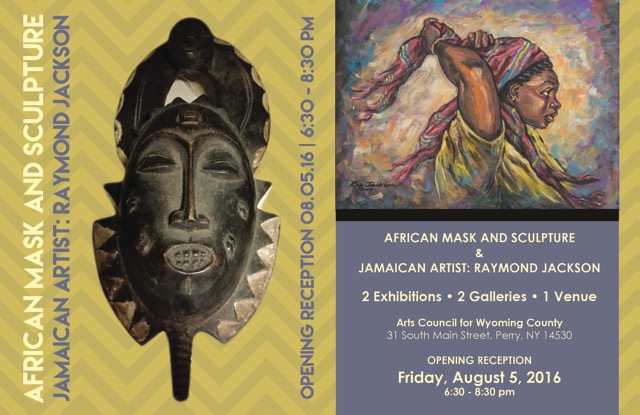 Raymond Jackson (Main Gallery)
Author Ernest Hemingway said, "It is good to have an end to journey toward; but it is the journey that matters, in the end." Artist Raymond Jackson said, "It is the love of this land that drives me, and being an artist is a lifelong profession. You don't retire, but you journey on." The ACWC invites you to come and experience this artist's journey with the opening of his exhibition, Jamaican Treasures, in the Main Gallery on August 5. Ray Jackson is regarded as one of Jamaica's most distinguished and sought-after portrait pastel artists. His signature technique of using hands instead of aintbrushes creates vibrant, vivid portraits and landscapes that document the Jamaican landscape and its people. Ray has traveled across the island for over 30 years observing people, photographing places and then, as he likes to say, "recording them." 
Come celebrate another of our 2016 Small World themed events at the opening reception of this exhibition on Friday, August 5 at 6:30 pm to experience Jamaican food, music, and island art. Yeah Man!
Call 585-237-3517 for more information.