Past Events Archive
Each year, the Arts Council for Wyoming County hosts numerous events ranging from performances to art exhibits and shows to professional development sessions for artists and art managers. We periodically archive interviews from our past events on this page for you to browse. 
---
In Conversation: Talking with Steve Martin, Certified SCORE Mentor & Volunteer, about Small Business Skills for Artists
Local Artist Ryan McDanel at Letchworth Arts and Crafts Show (2015)
On October 20, 2016 US Small Business Administration Buffalo District Office, The Arts Council For Wyoming County, Wyoming County Chamber of Commerce, and the Wyoming County Industrial Development Agency are sponsoring an all day "Small Business Workshop" hosted by the Buffalo Niagara SCORE Chapter. SCORE is a non-profit organization that coordinates business experts with start-ups and new entrepreneurs. Steve Martin, a Certified SCORE Mentor & Volunteer, spent some time talking with us about artists and business skills:
For artists starting their first business, what would you say is the most critical "first step" for them?

An important first step is to realize that unless and until art is sold and a profit is made the endeavor is a hobby. There are many legal and practical elements involved in starting and running a business and these may not in the artists tool kit yet. Get the education and counsel that will help you get off on the right foot. Prepare a business plan in enough detail to reduce the risk that you will end up as a starving artist.

Free access to business mentors and very low cost business education are but two of the wonderful resources from SCORE.
    
You work with entrepreneurs in all fields, what do you think makes the arts different as an industry? What do you think makes it similar to other fields? 

There are several elements that are common to essentially all businesses. Nothing happens until you sell something so marketing and sales are part of that bridge from art on the wall to cash in the till. Customers tend to buy from people and companies that they know, like and trust. This means that those entrepreneurs who can help their prospects to understand and relate to them have a significant advantage. Art is somewhat different in that the beauty does lie in the eye of the beholder. This means that it can be very challenging for artists to find their niche markets but once they do success is possible.
    
What suggestions do you have for artists in terms of managing their time between spending time creatively and for their business?

Business requires organization, conformance to rules, attention to detail and the dedication to work on the business.  Set your commercial goals as well as your artistic goals and embrace the fact that you have to do the work of the business. This acceptance may help you to make the tough choice to work on the business when you have to. Run your business as efficiently as possible so you can dedicate a balance of time and energy with your family and your art.

Use you life, art and business goals to help guide your decisions. Reassess and readjust when you find your life out of balance.

Artists may be tempted to "do it all" for their business, but what do you consider key ways that artists can use business tools or advisors to help them grow their business? 

You do not have to do it all but it all must be done. Until you make enough money to hire others to do tasks like marketing, bookkeeping, shipping and even cleaning the studio those tasks fall on your shoulders. Don't make them any more complicated than needed. 
You do not have to be an expert in everything but you need to know enough to make good decisions. I recommend that you have a team of advisors for your business including an attorney, an accountant, a banker, mentors in the arts field and a SCORE mentor. Use their counsel to help you to decide what you must do and what is optional.
Use freelancers and experts to help you develop your brand, set up your website, start your bookkeeping and other business tasks. Online accounting systems, for example, can make your financial management effective and efficient for you. The internet also opens up channels of distribution that greatly simplify retail business. Talk to your mentors before spending real money because they probably know of better options or can at least confirm that your investment is a good one.
---
In Conversation: Talking with Sandy Pirdy, Wyoming County Entrepreneur and Women's Business Summit Keynote Speaker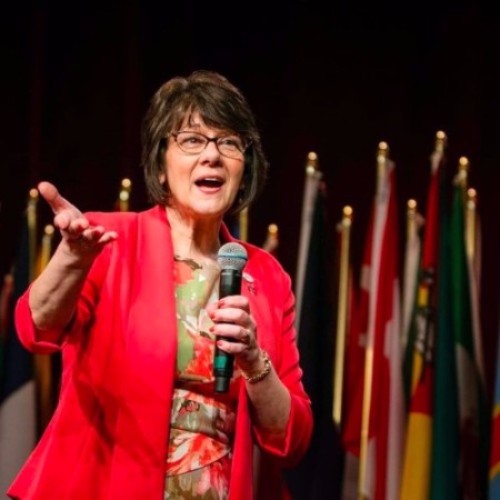 Sandy Pirdy has been the owner of Creekside Fabrics Quilts & Yarn, located in Arcade, NY for over 12 years.  She is a lifelong learner who desires to share and encourage others in personal and professional growth, recently completed the John Maxwell Leadership Certification program. She is passionate about arts and culture, economic empowerment, education, health, and wellness.
Sandy is currently a member of the Wyoming County Industrial Development Agency Board of Directors. Her experience as a community leader and organizer, public speaker, teacher, trainer, life coach, team builder, manager, strategic planner, a specialist in customer service, sales and marketing, brought a message of hope in her keynote speech on "planning for the unplanned" in the midst of the unexpected and adversity. 
On September 29, 2016, Sandy Pirdy was the keynote speaker at the Wyoming County Women's Business Summit sponsored by the Arts Council for Wyoming County and the Wyoming County Chamber of Commerce. 
We spoke with Sandy about her reflections on starting a business and what it is like to be an entrepreneur. 
For young women starting in business, how did you start as an entrepreneur?

I worked in the corporate world for 25 years prior to opening Creekside. I knew I was destined for my own business when I wanted to re-invent each business I worked with. So when my daughter entered college, I knew it was my time for me to do my own.

Was opening your own business always your part of your career plan? How did you prepare?

In the beginning, no. Then as I grew through my experiences, the tug of owning a business was always there. I prepared by looking at what my passion was - Sewing & Quilting. I did my demographic study, visited with quilting groups, took my husband on a road trip to see other shops away from WNY sales region, sought out trade information, professional financial advice, chamber of commerce and IDA help. Put together a plan, purchased a building, renovated, purchased goods to sell and opened my front door in 2004.

What would you say are the biggest challenges of being a business owner? 

The biggest challenge is staying up with technology, knowing it (Facebook, Websites, online sales), using it (staying current), protecting my customers (fraud by a third party troublemakers).

Next big challenge is knowing the behind the scenes of owning a business. Correct insurance needs and coverage's, payroll and contractual employee hiring, and staying focused in the day to day operation needs of the business.

What would you say are the biggest opportunities of being a business owner? 

There are many, thank goodness or the challenges would be to great!  The opportunity to be the navigator of the ship... taking ideas, passions, networking ability, resourcing, and education into the market place, while doing something I enjoy. Developing staff to their strengths, making an impact in my community, creating a good shopping experience for our customers, providing a tax base for Village, County and NY, creating employment opportunities, and to offer Creekside later on to a new Ship Captain that will take her beyond measure.